Molly Moon and the Monster Music is the final Molly Moon book by Georgia Byng that was released on the 26th of February 2013.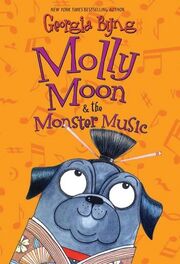 It is a fun-filled final installment in the best-selling series that includes Molly Moon's Incredible Book of Hypnotism. It finds rock star Molly confronting the powers of a magical coin that plays hypnotic music capable of turning listeners into monster slaves. Molly Moon (an eleven year old) is known and loved for her incredible powers - hypnotism, time travelling, mind reading, morphing, world stopping... But now something seems to have power over her. Not only has it made her a brilliant musician, but it's given her thousands of new fans, all of whom are mesmerized by her. Literally. Only Petula, her pet pug, senses an off-note. Molly-the-Maker-of-Magical-Music is one thing, but Molly-the-Big-Old-Meanie is another - and every day Petula sees her kind owner become more and more horrible. What is going on? And can one determined dog sort it out before Molly becomes truly monstrous?
Ad blocker interference detected!
Wikia is a free-to-use site that makes money from advertising. We have a modified experience for viewers using ad blockers

Wikia is not accessible if you've made further modifications. Remove the custom ad blocker rule(s) and the page will load as expected.